Hi everyone,
Welcome to my first blog post… and the launch of www.moto-journalist.com!
I've been a full-time professional travel writer and photographer (and tour leader) now for more than 30 years. Motorcycling has been a part of that, but in recent years it's become a much larger part.
Although I'd ridden for several years, as many of you may know, my real affair with motorcycle touring and travel began in 1996 when I bought a BMW R100GS PD and shipped it to Cuba, rode more than 7,000 miles while researching the Moon Cuba guidebook, and wrote a literary travelog–Mi Moto Fidel: Motorcycling Through Castro's Cuba–that was published in 2001 by National Geographic Adventure Press.
Thereafter I was pretty much a dormant and ephemeral motorcyclist, although the book's success provided an introduction to the world of moto-journalism and fellow adventure motorcycle writers such as Ted Simon, Carla King, and Glenn Heggstad. I'm fortunate to call all of them friends.
Then, in 2011, I was invited to arrange and lead the first group motorcycle tours of Cuba for U.S. citizens. The tours were a great success. And my enthusiasm for motorcycle touring and adventure touring was truly sparked.
Today I lead group motorcycle tours in Cuba for U.S. citizens (and others!) on behalf of Edelweiss Bike Travel, the world's foremost motorcycle touring company. But I've also become intimately engaged in the world of motorcycle touring. Exploring the world on two wheels has become a passion!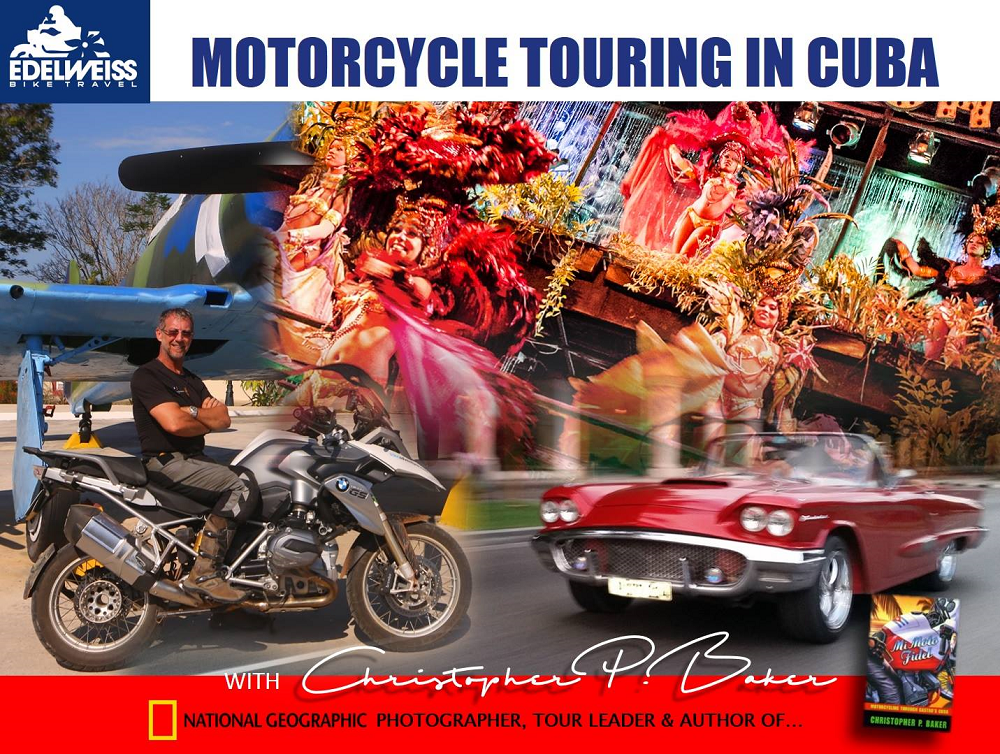 I now contribute feature articles etc. on motorcycle touring and travel to publications as diverse as ADV Motorcycle Rider, BMW Motorcycle Magazine, Motorcyclist, National Geographic Traveler, Rider and Robb Report.
Today I give a more full-time focus to motojournalism. For example, this summer I had the pleasure of riding in ten different countries (watch for my stories on this website as they get published). Next year I'll add a few more.
I look forward to sharing with you my future adventures, product review, and news about motorcycle travel and touring, etc.
And that's why you're reading this blog… my introductory post announcing the launch of my new website: www.moto-journalist.com.
Stay tuned! And thanks for tuning in.
Safe travels,
Christopher P Baker